History & Mission
Brief History of the Glenwood Springs Historical Society
The Frontier Historical Society was formed in 1963 by a group of local Glenwood Springs individuals who saw a need to collect and preserve artifacts and materials from Glenwood Springs' past. Many of the pioneers were dying, and with them, their stories.
At the time, the city of Glenwood Springs had been in existence for seventy-eight years. The Society was officially incorporated in the state of Colorado in April of 1964. The society and museum were governed by a board of directors and volunteer staff.
Soon after, a small museum was put together and housed in the basement of the Hotel Colorado. Sometime later, a small house located in the 800 block of School Street housed the museum and its collections. Every year, the collection grew and housing it became a more of a challenge.
In 1971, Stella Shumate passed away leaving no heirs. Her attorney had earlier suggested that she consider leaving her home to the society for a new museum. She did so in her will and the museum was moved to 1001 Colorado Avenue in 1971. The name was changed to the Glenwood Springs Historical Society in 2016.
Mission of the Glenwood Springs Historical Society
The Glenwood Springs Historical Society collects and preserves artifacts and materials relating to the history of Glenwood Springs and Garfield County, Colorado. It makes these materials available for research and interprets them through temporary and permanent exhibits at the Frontier Historical Museum, off-site exhibits, publications, and educational programs. The Society cooperates with individuals and other organizations to accomplish these goals.
GLENWOOD SPRINGS HISTORY
From the prehistory of hot springs, caves and river-and-mountain valleys, to the indigenous Ute tribe, to the migration and settlement of the Wild West, history is what defines Glenwood Springs, Colorado.
​The enchanting hot springs, for which we are famous, were held sacred by the Utes. Their allure is enduring, with a magnetic draw to countless generations for their healing and restorative properties. And not surprisingly, our hot springs have been central to our town's lively story.
​A tourist destination since the start, Glenwood Springs has hosted luminaries from around the globe: President Theodore Roosevelt and the Unsinkable Molly Brown have vacationed and spent time here, staying at our local historic landmark, the Hotel Colorado. Buffalo Bill Cody was a regular. And our most notorious former resident of all, gunslinger-dentist-gambler Doc Holliday, breathed his last breath at the Glenwood Hotel.
​Who keeps these stories alive? We do. We're the Glenwood Springs Historical Society, a nonprofit organization formed in 1963. We accomplish our mission by maintaining artifacts and photographs, as well as hosting events and running The Frontier Museum and with the help of volunteers who are passionate about history.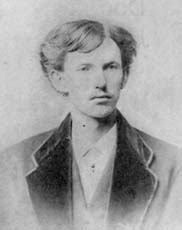 The Doc Holliday Collection
Come learn about the infamous gambler and gunslinger, Doc Holliday!
The Doc Holliday Collection is in the lower level of Bullock's Western Store at 8th Street and Grand Avenue in downtown Glenwood Springs. This once was the site of Hotel Glenwood. Here you can see period dental and medical equipment, a pocket watch belonging to Doc, and a Derringer that was quite likely his as well. There is a small admission fee.
John Henry Holliday, was born August 14, 1851 to Henry Burroughs and Alice Jane Holliday in Griffin, Georgia. John Henry was educated at the Valdosta Institute and later graduated from the Pennsylvania College of Dental Surgery in Philadelphia, Pennsylvania.
After contracting tuberculosis at the age of 21, "Doc" headed out west seeking a climate that would help his disease. Doc made his living as a gambler, moving about from place to place. He became good friends with Wyatt Earp and his brothers, and participated in the shootout at the OK Corral. Doc came to Colorado and stayed several years in Leadville during its boom days. He here in Glenwood Springs near the end of his life. He was in the advanced stages of tuberculosis and presumably came here to ease his symptoms by using the mineral waters and hot vapor cave. Holliday, at the time of his death, looked like a man well advanced in years, for his hair was silvered and his form emaciated and bent. On November 8, 1887, at the age of 36, and after several weeks in a coma, Holliday died in his room at the Hotel Glenwood and is buried in Linwood Cemetery.
Doc passed away penniless but his friends and bartenders took up a collection for his burial. Doc Holliday obviously had his faults but he undeniably has had a lasting impact on western lore and history.
Want a Tour?
Interested in bringing a group by for a tour of the museum? Let's set up a date!